Corporate Education
in joint-providership with the University of South Carolina College of Pharmacy
9th Annual Health Odyssey: A Symposium on Healthcare Issues
LOCATION: The Piedmont Club, 361 E. Main St., Spartanburg, South Carolina 29302
PROGRAM DESCRIPTION: This one-day program will focus on various health issues related to everyday living. Topics to be discussed are: opioid addiction, the role of naloxone, the "food-mood" link, ADHD, and dementia. The goal of this program is to provide nurses, pharmacists and other interested healthcare professionals with updated healthcare information to assist them in providing quality care to their clients.
LEARNING OBJECTIVES:
At the conclusion of the program, the pharmacist will be able to:
Discuss the management of opioid addiction

Describe the role of naloxone in the opioid epidemic

Recognize the "second brain" that affects our mood and behavior

Determine the signs and symptoms of ADHD

Describe the diagnosis and staging of dementia
AGENDA (schedule is subject to change)
7:30-7:55 Registration, Coffee
7:55-8:00 Welcome, Introduction
8:00-9:15 Solving Opioid Addiction: A Complicated Dilemma (1.25 h) - Chris Lombardozzi, MD, FACEP, VP & CMO
9:15-9:30 Break, Networking
9:30-10:45 Role of Naloxone in the Opioid Epidemic (1.25 h) - Rebecca Conley, PharmD
10:45-12:00 "Second Brain: Where the Mood Begins" (1.25 h) - Kerri Stewart, RD, LD
12:00-1:00 Lunch (Provided), Networking, Exhibits
1:00-2:15 The Truth About ADHD (1.25 h) - Nicole Pierce, SW
2:15-2:30 Break, Networking, Exhibits
2:30-3:45 Dementia: A Tool Kit for Health Care (1.25 h) - Charlotte Stephen, APRN- FNP, BC, PMHNP-BC
3:45-4:00 Wrap-up, Speaker Questions, Evaluation (0.25 h)
4:00 Adjourn
Date: Mar 22, 2018 08:00 AM - 04:00 PM
Fee
$0.00
CE Hours
6.50
CE Units
0.650
Activity Type
Target Audience(s)
Accreditation(s)
| | |
| --- | --- |
| | The University of South Carolina College of Pharmacy is accredited by the Accreditation Council for Pharmacy Education as a provider of continuing pharmacy education. |
Co-Sponsor(s)
Spartanburg Regional Healthcare System Corporate Education
Requirements for CE Credit
To claim credit, participants must sign-in at the beginning of the day and attend all sessions. No partial credit (for attending individual sessions or partial sessions) will be issued. Participants must complete an online evaluation within 30 days (providing their correct NABP e-profile number and day/month of birth) in order to ensure credit is reported to the NABP CPE Monitor. To create an e-Profile ID or to view your account details, please visit the NABP website by clicking the image link below. Any credit claimed greater than 60 days from the date of the program will not be accepted by the NABP CPE Monitor.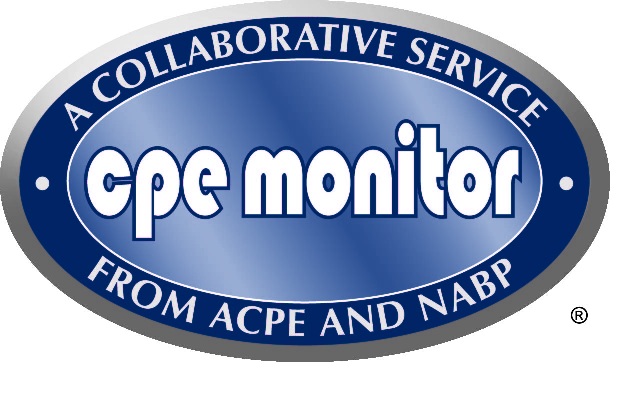 At the conclusion of the program, the pharmacist will be able to:
Discuss the management of opioid addiction

Describe the role of naloxone in the opioid epidemic

Recognize the "second brain" that affects our mood and behavior

Determine the signs and symptoms of ADHD

Describe the diagnosis and staging of dementia
Sessions:
8:00-9:15 - Solving Opioid Addiction: A Complicated Dilemma - Chris Lombardozzi, MD, FACEP, VP & CMO (1.25 live contact hours)
9:30-10:45 - Role of Naloxone in the Opioid Epidemic - Rebecca Conley, PharmD (1.25 live contact hours)
10:45-12:00 - "Second Brain: Where the Mood Begins" - Kerri Stewart, RD, LD (1.25 live contact hours)
1:00-2:15 - The Truth About ADHD - Nicole Pierce, SW (1.25 live contact hours)
2:30-3:45 - Dementia: A Tool Kit for Health Care - Charlotte Stephen, APRN- FNP, BC, PMHNP-BC (1.25 live contact hours)
3:45-4:00 - Wrap-up, Speaker Questions, Evaluation (0.25 live contact hours)
Speaker(s)/Author(s)
Charlotte Stephen, DNP, APRN-BC, FNP, PMH-NP
Nurse Practitioner, Behavioral Health, Spartanburg Regional Healthcare System
Chris Lombardozzi, MD, FACEP
Vice President, Chief Medical Officer, Spartanburg Regional Healthcare System
Kerri Stewart, RD, LD
Registered Dietitian, Joe R. Utley Heart Resource Center, Spartanburg Regional Healthcare System
Nicole Pierce, LISW-CP
Behavioral Health Social Worker, Spartanburg Regional Healthcare System
Rebecca Conley, PharmD
Pharmacy Resident, Spartanburg Regional Healthcare System
Activity Number
0062-9999-18-033-L01-P
Date: 03/22/18
Time: 08:00 AM - 04:00 PM
CE Hours
6.50