Corporate Education
in joint-providership with the University of South Carolina College of Pharmacy
10th Annual Health Odyssey: A Symposium on Healthcare Issues
LOCATION: The Piedmont Club, 361 E. Main St., Spartanburg, South Carolina 29302
PROGRAM DESCRIPTION: This one-day program will focus on various health issues related to everyday living. Topics to be discussed are: Angioedema & Urticaria, Pharmacotherapies for Sleep Debt, Microbiome/Inflammation, Sleeping Issues and Infection Prevention. The goal of this program is to provide nurses, pharmacists and other interested healthcare professionals with updated information and to assist them in providing quality care to their clients.
LEARNING OBJECTIVES:
At the conclusion of the program, the pharmacist will be able to:
Discuss the management of hives and swelling
Differentiate the various pharmacotherapies used for sleep debt
Discuss the implications of microbiome on human health and well being
Describe components of sleeping well and feeling better
Discuss relevant infection prevention topics in the community and those on the national scene
AGENDA (schedule is subject to change)
7:30-7:55 Registration, Coffee
7:55-8:00 Welcome, Introduction
8:00-9:15 An Update on Angioedema & Urticaria (1.25 h) - Robin Go, MD, FAAAAI, FACAAI
9:15-9:30 Break, Networking
9:30-10:45 Time to Pay the Sandman: The Chemical Currencies of Sleep Debt (1.25 h) - John Tyrell, PharmD
10:45-12:00 Microbiome/Inflammation (1.25 h) - Otis Baughman III, MD, CPE, FAAFP
12:00-1:00 Lunch (Provided), Networking, Exhibits
1:00-2:15 Wake Up to a Great Day (1.25 h) - Shari Angel Newman, RST, RPSGT
2:15-2:30 Break, Networking, Exhibits
2:30-3:45 Infection Prevention Current Events (1.25 h) - Kathy Bryant, RN, BAEd, MSHM, CIC
3:45-4:00 Wrap-up, Speaker Questions, Evaluation (0.25 h)
4:00 Adjourn
Date: Mar 21, 2019 07:30 AM - 04:00 PM
CE Hours
6.50
CE Units
0.650
Activity Type
Target Audience(s)
Accreditation(s)
| | |
| --- | --- |
| | The University of South Carolina College of Pharmacy is accredited by the Accreditation Council for Pharmacy Education as a provider of continuing pharmacy education. |
Co-Sponsor(s)
Spartanburg Regional Healthcare System Corporate Education
Requirements for CE Credit
To claim credit, participants must sign-in at the beginning of the day and attend all sessions. No partial credit (for attending individual sessions or partial sessions) will be issued. Participants must complete an online evaluation within 30 days (providing their correct NABP e-profile number and day/month of birth) in order to ensure credit is reported to the NABP CPE Monitor. To create an e-Profile ID or to view your account details, please visit the NABP website by clicking the image link below. Any credit claimed greater than 60 days from the date of the program will not be accepted by the NABP CPE Monitor.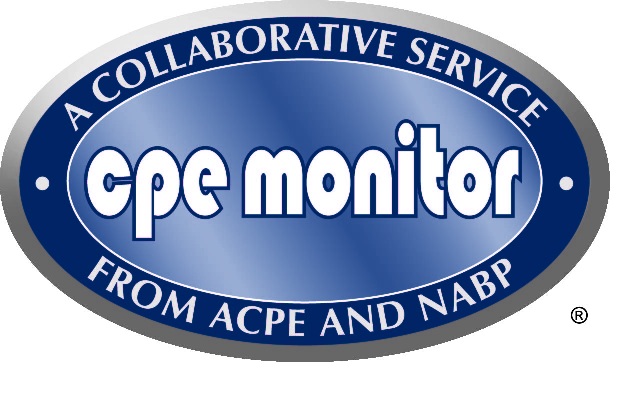 At the conclusion of the program, the pharmacist will be able to:
Discuss the management of hives and swelling
Differentiate the various pharmacotherapies used for sleep debt
Discuss the implications of microbiome on human health and well being
Describe components of sleeping well and feeling better
Discuss relevant infection prevention topics in the community and those on the national scene
Sessions:
8:00-9:15 An Update on Angioedema & Urticaria (1.25 h) - Robin Go, MD, FAAAAI, FACAAI
9:30-10:45 Time to Pay the Sandman: The Chemical Currencies of Sleep Debt (1.25 h) - John Tyrell, PharmD
10:45-12:00 Microbiome/Inflammation (1.25 h) - Otis Baughman III, MD, CPE, FAAFP
1:00-2:15 Wake Up to a Great Day (1.25 h) - Shari Angel Newman, RST, RPSGT
2:30-3:45 Infection Prevention Current Events (1.25 h) - Kathy Bryant, RN, BAEd, MSHM, CIC
Speaker(s)/Author(s)
John Tyrrell, PharmD
PGY1 Pharmacy Practice Resident, Spartanburg Regional Medical Center
Kathy Bryant, RN, BAEd, MSHM, CIC
Manager, Acute Care Infection Prevention, Spartanburg Regional Healthcare System
Otis L. Baughman III, MD, CPE, FAAFP
Retired Director of Medical Education, Spartanburg Regional Healthcare System
Robin Go, MD, FAAAAI, FACAAI
Allergy-Immunology Specialist, Medical Group of the Carolinas
Shari Angel Newman, RPSGT, RST
Clinical Manager, Regional Sleep Services
Activity Number
0062-9999-19-050-L04-P
Date: 03/21/19
Time: 08:00 AM - 04:00 PM
CE Hours
6.50