Corporate Education
in joint-providership with the University of South Carolina College of Pharmacy
32nd Annual Diabetes Management Conference
"Unlocking Solutions"
Thursday, November 7, 2019
To register, Click Here (online registration closes after October 31),
LOCATION
:
Greenville
Marriott, One Parkway East, Pelham Road and I-85, Greenville, South Carolina 29615
PROGRAM DESCRIPTION: This one-day program will present diverse topics in relation to diabetes management and diabetes across the continuum of life. The topics to be discussed: Cardiovascular Outcomes Trials (CVOT), Diabetes & Chronic Kidney Disease, Inpatient Diabetes management, Non-Alcoholic Steatohepatitis (NASH) and Continuous Glucose Monitoring (CGM). The goal of this program is to provide healthcare providers the knowledge and tools to assist them in providing quality care related to diabetes management. There will be opportunities for networking and visit with exhibitors.
LEARNING OBJECTIVES:
Upon completion of this program, the participant will be able to:
(In reference to Diabetes Management)
Discuss the importance of cardiovascular outcome trials (CVOT) in diabetes and the impact on decision-making
Describe the relationship of diabetes and chronic kidney disease, including prevention and intervention
Identify insulin safety measures in inpatient setting
Recognize the relationship between Nonalcoholic Steatohepatitis (NASH) and diabetes
Explain Continuous Glucose Monitoring (CGM) basics and interpret downloads for optimal diabetes management
AGENDA (schedule is subject to change)
7:00 am-7:50 am: Registration, Coffee, Exhibits
7:50 am-8:00 am: Welcome, Introduction
8:00 am-10:00 am: Managing Diabetes in the Era of Cardiovascular Outcomes Trials: Incorporating Evidence and Technology in Daily Practice
10:00 am-10:30 am: Break, Exhibits, Networking
10:30 am-12:00 pm: Diabetes: One Leading Cause of Chronic Kidney Disease
12:00 pm-1:00 pm: Lunch (provided), Break, Networking, Exhibits
1:00 pm-2:00 pm: Inpatient Diabetes Management
2:00 pm-3:00 pm: Nonalcoholic Steatohepatitis and Diabetes
3:00 pm-3:15 pm: Break, Networking
3:15 pm-4:45 pm: Continuous Glucose Monitoring Primer and Case Studies Application
4:45pm-5:00 pm: Wrap-up, Program Evaluation
5:00 pm: Adjourn
Date: Nov 7, 2019 07:00 AM - 05:00 PM
CE Hours
7.25
CE Units
0.725
Activity Type
Target Audience(s)
Accreditation(s)
| | |
| --- | --- |
| | The University of South Carolina College of Pharmacy is accredited by the Accreditation Council for Pharmacy Education as a provider of continuing pharmacy education. |
Co-Sponsor(s)
Spartanburg Regional Healthcare System
Requirements for CE Credit
Participants must check in with the front desk upon arrival and have attendance verified. Participants will receive credit for attending this program in its entirety and fully completing the associated evaluation. Failure to complete the evaluation within the specified time period (within 30 days of attendance) may result in loss of credit. The NABP CPE Monitor will reject any credit claimed greater than 60 days from the date of the program.
Participants must update their accounts to properly reflect their month and day of birth and their correct NABP E-Id. Failure to do so may result in loss of credit. Registration with a proper disclosure of your NABP E-Id is a requirement for receiving Continuing Pharmacy Education. To register with or look up your NABP E-Id, please click on the CPE Monitor logo below to be directed to their site: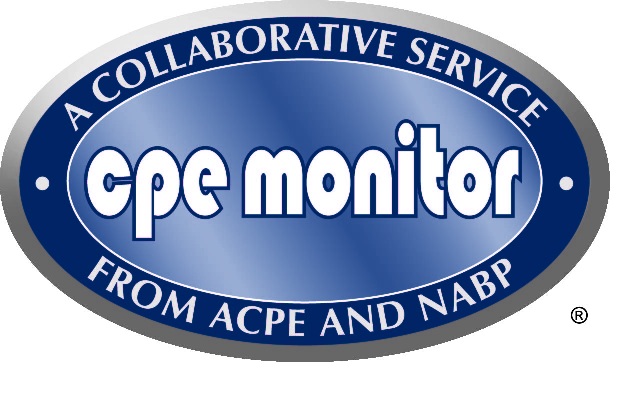 Upon completion of this program, the participant will be able to:
Discuss the importance of cardiovascular outcome trials (CVOT) in diabetes and the impact on decisionmaking
Describe the relationship of diabetes and chronic kidney disease, including prevention and intervention
Identify insulin safety measures in inpatient setting
Recognize the relationship between Nonalcoholic Steatohepatitis (NASH) and diabetes
Explain Continuous Glucose Monitoring (CGM) basics and interpret downloads for optimal diabetes management
Speaker(s)/Author(s)
Alexandra Lautenschlaeger, RDN, RD, LD
Clinical Dietitian, Dialysis Clinic
Donnie Nuzum, PharmD, BCACP, BC-ADM, CDE-CPP
Associate Professor, Wingate University
Mara Schwartz, BSN, RN, CDE, CPT
Diabetes Education Coordinator, Self Regional Healthcare
Pamela Arnold, MSN, APRN, BC-ADM, CDE
Manager, Diabetes Medical University Hospital, MUSC
Sheri Morris, AGNPC, CDE, BC-ADM
Nurse Practitioner, Internal Medicine, PRISMA Health
Activity Number
0062-9999-19-170-L01-P
Date: 11/07/19
Time: 08:00 AM - 05:00 PM
CE Hours
7.25