Target Audience:

Pharmacists
Fee:

$27 for whole program (or each part is $15 per)
To register for either part 1 or part 2, click the drop down, and choose "Separate Pay".
Speakers and Topics:
* Please scroll down to view the presentation title and learning objectives for pharmacists
Credit Hours Available:

This program was pre-recorded. Part 1 is accredited for 1.25 contact hours or 0.125 CEUS, video runtime is 1 hour 25 minutes long; Part 2 is accreded for 1.50 contact hours or 0.15 CEUs, video runtime is 1 hour 30 minutes long.
How to Earn Credit:

Participants must 1) read the learning objectives and faculty disclosures, 2) listen to the video presentation and the interactivity, and 3) complete the evaluation form. To receive credit, you must provide your date of birth and NABP number. CE credit will be submitted to the NABP CE Monitor.
Required Computer Hardware/Software:
Please ensure the computer system you plan to use meets the following minimum requirements:
Operating System: Windows, Mac OS and Linux

Internet Browser: Internet Explorer 7.0 or higher; Mozilla Firefox 3.0 or higher; Google Chrome

Computer Speakers or headphones connected to your computer

Broadband Internet Connection: Cable, High-speed DSL or T1

Monitor Screen Resolution: 320x480 or higher

Media Viewing Requirements: Adobe Reader, Microsoft Power Point and HTML
Privacy and Confidentiality:

Information received by the University of South Carolina College of Pharmacy for continuing education (CE) programs will be maintained in a confidential and secure manner. In order for continuing education credit to be submitted to the NABP CPE Monitor, personal information such as your NABP e-Profile ID and day and month of birth will be required along with your name and contact information.
Provider Contact Information:

For questions regarding this continuing education activity, please contact our office at CE@cop.sc.edu or 803-777-9979.
Pharmacy Residency Research Showcase 2022: Part 1
Implementation and analysis of a professional continuous glucose monitor educational program for medical residents at a Family Medicine Clinic
Lawrence (LJ) Bean, PharmD; PGY1 Outpatient Pharmacy Resident
Identify educational techniques to improve continuous glucose monitor (CGM) comprehension for medical residents
Utilization of Unfractionated Heparin IV Continuous Infusions at Multiple Inpatient Facilities
Logan Boone, PharmD; PGY1 Inpatient Pharmacy Resident
Identify appropriate unfractionated heparin continuous infusion dosing for common indications
Integration of pharmacy interns in the ambulatory care setting of a large health-system
Abigail Bouknight, PharmD; PGY2 HSPAL Pharmacy Resident
Describe the current development and future goals of an ambulatory care pharmacy internship program in a large health-system
Evaluation of the Legionella Urinary Antigen on Azithromycin Discontinuation
Taylor Gregory, PharmD; PGY2 Critical Care Pharmacy Resident
Discuss the clinical utility of diagnostic tools used in community acquired pneumonia, specifically the Legionella Urinary Antigen
Projected Cost-Effectiveness of Vancomycin Alternatives for Methicillin-Resistant Staphylococcus aureus Bloodstream Infections
Emma Haught, PharmD; PGY1 Pharmacy Practice Resident
Compare projected costs of an institutional algorithm that includes vancomycin alternatives to a historical strategy of initial vancomycin therapy for treatment of methicillin-resistant Staphylococcus aureus (MRSA) bloodstream infections (BSI)
Efficacy of oral and intravenous magnesium replacement in hospitalized heart failure patients undergoing intravenous diuresis with loop diuretics
Cassidy Kemp, PharmD; PGY1 HSPAL Pharmacy Resident
Identify an appropriate route and dose for magnesium replacement in heart failure patients concurrently receiving intravenous (IV) loop diuretics
Impact of propranolol therapy timing on outcomes in critically ill patients with traumatic brain injury
Rachel LeClair, PharmD; PGY2 Critical Care Pharmacy Resident
Describe the rationale for propranolol use in traumatic brain injury
Pharmacy Residency Research Showcase 2022: Part 2
Epidemiology and Treatment of Invasive Bartonella spp. Infections
Morgan Pizzuti, PharmD; PGY2 Infectious Diseases Pharmacy Resident
Describe the epidemiology and treatment outcomes of Bartonella spp. disseminated disease
Evaluation of risk factors for valproic acid level discordance among hospitalized patients
Gadison Quick, PharmD; PGY2 Internal Medicine Pharmacy Resident
Enhance the description of valproic acid therapeutic drug monitoring by validating risk factors leading to discordant levels
Clinical outcomes following the implementation of protocol-driven management for late onset sepsis (LOS) in a neonatal intensive care unit (NICU)
Ben Tabor, PharmD; PGY1 Inpatient Pharmacy Resident
Recommend appropriate empiric antimicrobials for a NICU patient presenting with late onset sepsis
An Examination of Purge Reliability in Impella Devices with Multiple Heparin Concentrations
Taylor Teshon, PharmD; PGY2 Cardiology Pharmacy Resident
Determine which concentration of heparin has the highest purge reliability when used in the Impella purge solution
Benchmarking the Utilization of New β-lactams Antibiotics Using Novel Metric of Microbiological Burden
Y. Vivian Tsai, PharmD; PGY2 Infectious Diseases Pharmacy Resident
Evaluate the prevalence of Gram-negative bacilli (GNB) with difficult-to-treat resistance (DTR)

Determine the use of new β-lactams by antibiotic use (AU) and adjusted antibiotic use (a-AU) metrics
Incidence and Predictors of Complications in Gram-Negative Bloodstream Infection
Erin Warren, PharmD; PGY1 Inpatient Pharmacy Resident
Define complication as it relates to Gram-negative bloodstream infection (BSI) and the clinical impact of these complications
Evaluation of a pharmacist-driven opioid stewardship program at a family medicine clinic
Aly York, PharmD; PGY1 Pharmacy Resident
Describe the benefit of the opioid stewardship program on overall patient opioid use and prescribing practices by physicians in a family medicine teaching center
Fee
$27.00
CE Hours
2.75
CE Units
0.275
Activity Type
Target Audience(s)
Accreditation(s)
| | |
| --- | --- |
| | The University of South Carolina College of Pharmacy is accredited by the Accreditation Council for Pharmacy Education as a provider of continuing pharmacy education. |
Co-Sponsor(s)
Prisma Health
Requirements for CE Credit
In order to receive credit for this home study program, participants must:
Read the learning objectives and faculty disclosures
Review the video presentation and engage in any suggested interactivity
Complete the program evaluation form.
In order for credit to be transmitted to the NABP CPE Monitor, participants must provide their month and day of birth and NABP e-Profile ID number. Registration with a proper disclosure of the NABP E-Id is a requirement for receiving Continuing Pharmacy Education. To register with NABP CPE Monitor or look up your NABP E-profile ID, please click on the CPE Monitor logo below to be directed to their site. Failure to follow this process within the required timeframe will result in loss of credit. If you would like a paper statement of credit, you may print an individual statement or a transcript from your NABP e-profile.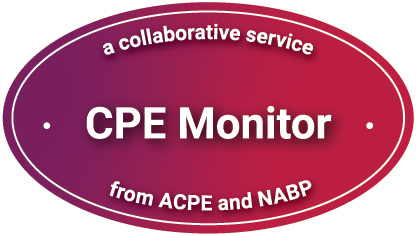 Please choose a Fee Type from the Drop Down Menu Below:
I am a
At the conclusion of this activity, the participant will be able to:
Identify educational techniques to improve continuous glucose monitor (CGM) comprehension for medical residents
Identify appropriate unfractionated heparin continuous infusion dosing for common indications
Describe the current development and future goals of an ambulatory care pharmacy internship program in a large health-system
Discuss the clinical utility of diagnostic tools used in community acquired pneumonia, specifically the Legionella Urinary Antigen
Compare projected costs of an institutional algorithm that includes vancomycin alternatives to a historical strategy of initial vancomycin therapy for treatment of methicillin-resistant Staphylococcus aureus (MRSA) bloodstream infections (BSI)
Identify an appropriate route and dose for magnesium replacement in heart failure patients concurrently receiving intravenous (IV) loop diuretics
Describe the rationale for propranolol use in traumatic brain injury
Speaker(s)/Author(s)
Abigail Bouknight, PharmD
PGY2 Health System Pharmacy Administration and Leadership Resident, Prisma Health - Midlands
Cassidy H. Kemp, PharmD
PGY2 Health System Pharmacy Administration and Leadership (HSPAL) Resident, Prisma Health Richland Hospital
Emma Haught, PharmD
PGY1 Inpatient Pharmacy Practice Resident, Prisma Health Richland Hospital - University of South Carolina
Lawrence Bean, PharmD
PGY1 Outpatient Pharmacy Resident, Prisma Health Richland
Logan Boone, PharmD
PGY2 Critical Care Pharmacy Resident, Prisma Health Richland Hospital
Rachel LeClair, PharmD
PGY2 Critical Care Pharmacy Resident, Prisma Health Midlands - Richland
Taylor Gregory, PharmD
PGY2 Critical Care Pharmacy Resident, Prisma Health Richland
Activity Number
0062-9999-22-139-H01-P
Release Date:
Jun 4, 2022
Credit Expiration Date:
Jun 4, 2025
CE Hours
1.25
Location
Prisma Health Richland
At the completion of this activity, the participant will be able to:
Describe the epidemiology and treatment outcomes of Bartonella spp. disseminated disease
Enhance the description of valproic acid therapeutic drug monitoring by validating risk factors leading to discordant levels
Recommend appropriate empiric antimicrobials for a NICU patient presenting with late onset sepsis
Determine which concentration of heparin has the highest purge reliability when used in the Impella purge solution
Evaluate the prevalence of Gram-negative bacilli (GNB) with difficult-to-treat resistance (DTR)
Determine the use of new beta-lactams by antibiotic use (AU) and adjusted antibiotic use (a-AU) metrics
Define complication as it relates to Gram-negative bloodstream infection (BSI) and the clinical impact of these complications
Describe the benefit of the opioid stewardship program on overall patient opioid use and prescribing practices by physicians in a family medicine teaching center
Speaker(s)/Author(s)
Aly York, PharmD
PGY1 Outpatient Pharmacy Resident, Prisma Health Richland
Benjamin Tabor, PharmD
PGY2 Cardiology Pharmacy Resident, Prisma Health Richland
Erin Warren, PharmD
PGY1 Inpatient Pharmacy Resident, Prisma Health Richland Hospital
Gadison Quick, PharmD
PGY2 Internal Medicine Pharmacy Resident, Prisma Health Richland Hospital
Morgan Pizzuti, PharmD
PGY2 Infectious Diseases Pharmacy Resident, Prisma Health - Richland, University of South Carolina
Taylor Teshon, PharmD
PGY2 Cardiology Pharmacy Resident, Prisma Health Richland
Y. Vivian Tsai, PharmD
Infectious Diseases Clinical Pharmacy Fellow, Prisma Health Richland - University of South Carolina
Activity Number
0062-9999-22-140-H01-P
Release Date:
Jun 4, 2022
Credit Expiration Date:
Jun 4, 2025
CE Hours
1.50