Prescription Drug Abuse in SC (2 hours)
ACPE# 0062-0000-14-162-L03-P & 0062-0000-14-162-L03-T
This activity is designed to educate pharmacists and pharmacy technician about the current drug abuse trends in SC as well as provide a review of the methods and tools available to reduce the potential for drug diversion.
Enhancing Pharmacy-Based Immunization Delivery (2 hours)
ACPE# 0062-0000-14-161-L01-P & 0062-0000-14-161-L01-T
This activity is designed to update pharmacists and pharmacy technicians on recent changes in adult and pediatric recommendations as well as highlight best practices for pharmacy-based immunization delivery.
What's New in Primary Care Practice (2 hours)
ACPE# 0062-0000-14-163-L01-P and 0062-0000-14-163-L01-T
This activity is designed to update pharmacists and pharmacy technicians on new drugs recently approved and how the evidenced-based clinical data should be used to determine the appropriate use and safety of these agents.
---
Registration is closed. Walkins will be accepted on a first come, first serve basis. If space limitations dictate, we reserve the right to turn away walkins.
SCCP reserves the right to cancel the entire program. In the event of a conference cancellation, each participant will be notified via email prior to the program and a full tuition refund will be made.
---
Parking is available free of charge in USC parking lots on Saturdays. The two closest lots are listed below. The red lines indicate the best walking path to the program location. Street parking is also available.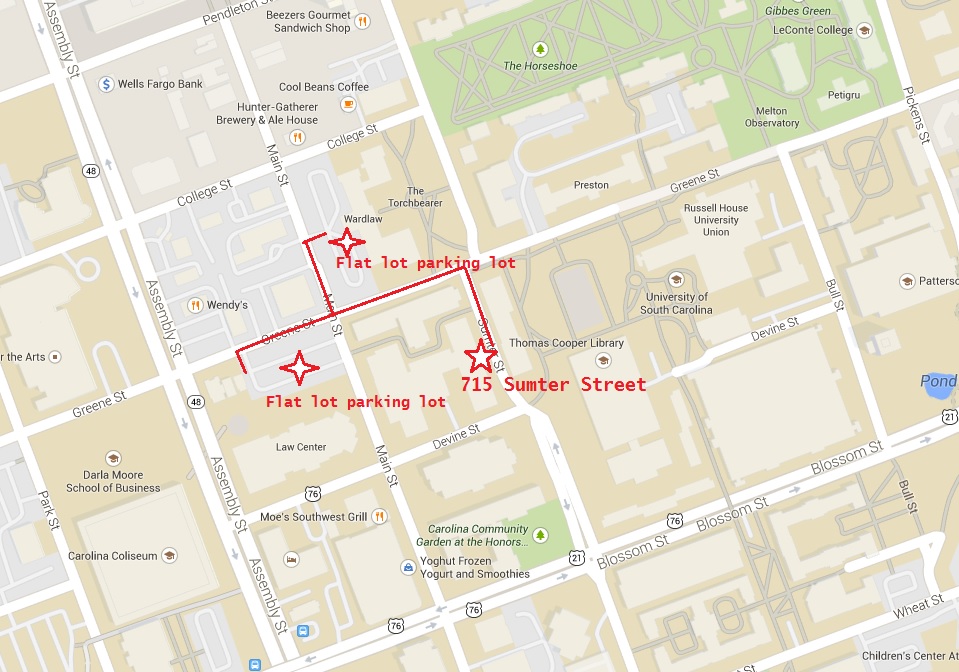 Date: Nov 8, 2014 08:00 AM - 04:00 PM
Fee
$95.00
CE Hours
6.00
CE Units
0.600
Activity Type
Target Audience(s)
Accreditation(s)
| | |
| --- | --- |
| | The University of South Carolina College of Pharmacy is accredited by the Accreditation Council for Pharmacy Education as a provider of continuing pharmacy education. |
Requirements for CE Credit
Participants must check in with the front desk upon arrival and have attendance verified. Participants will receive credit for attending this program in its entirety and fully completing the associated evaluation. Failure to complete the evaluation within the specified time period (within 30 days of attendance) may result in loss of credit.
Participants must update their accounts to properly reflect their month and day of birth and their correct NABP E-Id. Failure to do so may result in loss of credit. Registration with a proper disclosure of your NABP E-Id is a requirement for receiving Continuing Pharmacy Education. To register with or look up your NABP E-Id, please click on the CPE Monitor logo below to be directed to their site.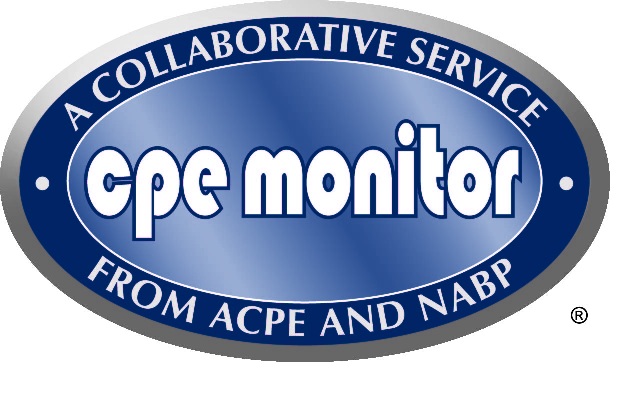 At the conclusion of the activity, the pharmacist will be able to:
Discuss findings of the SC Inspector General's 2013 report on Prescription Drug Abuse (PDA).
Identify current drug abuse trends in South Carolina and the Southeast for prescription and illicit drugs (including methamphetamine) as well as obstacles faced in managing PDA.
Discuss current initiatives by law enforcement to combat PDA including recent cases/trends.
Describe the role of the pharmacist in preventing prescription drug abuse*
Define the implications of the rescheduling of hydrocodone to a Schedule II.
Provide safety information in the event of a robbery **
Identify recent legislative changes to the Prescription Monitoring Act
Discuss the importance of the SC Prescription Drug Monitoring (PMP) program and how the SCRIPTS reports can be used to enhance patient care
Demonstrate the proper way to use the PMP program and the information included in the SCRIPTS report
Speaker(s)/Author(s)
Addison Livingston
South Carolina Board of Pharmacy
Christie J. Frick, RPh
Director, South Carolina Prescription Monitoring Program, South Carolina DHEC, Bureau of Drug Control
Lisa Thomson
Coastal District Director, SC DHEC
Max Dorsey
SLED
Activity Number
0062-0000-14-162-L03-P
Date: 11/08/14
Time: 08:30 AM - 10:30 AM
CE Hours
2.00
At the conclusion of this activity, the pharmacist will be able to:
Discuss new products and dosage forms as well as the potential role in therapy including clinical effectiveness, adverse effects and drug interactions
Discuss recent warnings and label changes for medications commonly used in primary care practice
Review new clinical data that impact drug therapy options for treatment of commonly seen outpatient conditions including diabetes, obesity, hypertension and dyslipidemia
Reinforce current recommendations and best practices for pharmacologic management of typical primary care patients
Speaker(s)/Author(s)
J. Elliot Turner
Ambulatory Clinical Pharmacist, Palmetto Health Richland
Activity Number
0062-0000-14-163-L01-P
Date: 11/08/14
Time: 10:30 AM - 12:30 PM
CE Hours
2.00
At the completion of this activity, the pharmacist will be able to:
1. Describe recent changes in adult and pediatric immunization schedules
2. Describe best practices for pharmacy-based immunization delivery
3. Apply immunization recommendations to specific patients
4. Review key components of the SC Board of Medical Examiners influenza protocol
Speaker(s)/Author(s)
Betsy Blake, PharmD, BCPS
Clinical Associate Professor and Director of Interprofessional Education, University of South Carolina College of Pharmacy
Activity Number
0062-0000-14-161-L01-P
Date: 11/08/14
Time: 02:00 PM - 03:00 PM
CE Hours
2.00