2015 South Carolina College of Pharmacy
Preceptor Conference
August 12, 2015
University of South Carolina Campus
Coker Life Sciences Building
715 Sumter Street Room CLS 211
Columbia, SC
To be eligible for the program, you must be an active SCCP preceptor and have actively participated in student rotations in the last three years.
Seating is limited and registration closes on August 9, 2015 or until full.
For additional information, please call 803-777-0490.
---
8:30 AM Registration (coffee, etc.)
8:50 AM Welcome remarks from EE team and Campus Deans/Overview of Day
9 AM – 12PM Appreciating Diversity and Inclusion
Dr. DaNine Fleming - Director of Training and Intercultural Education, MUSC
Dr. Willette Burnham – Executive Director, Student Programs & Student Diversity, MUSC
At the completion of this activity, the participant will be able to:
• Identify and apply current National Standards of Culturally and Linguistically Appropriate Services (CLAS) and Joint Commission (JC) Requirements in order to deliver effective communication of cultural competence and awareness
• Recognize the personal impact of incidents of discrimination to help develop cultural sensitivity
• Discuss the institutional culture of diversity and inclusion and explain how it plays a critical role in addressing medical errors
• Translate theory into practice to create a welcoming, safe and inclusive environment that contributes to improved health care quality for faculty, staff, student and patients
12PM – 1 PM Lunch
1 - 2 PM Learning Styles and the Millennial Learner
Dr. Jenny Ariail, Director, Center for Academic Excellence & the Writing Center
At the completion of this activity, the participant will be able to:
• Adopt a new understanding and appreciation of this generation of students
• Discover more about their own learning style preferences/assessments and that impact on students
• Collaborate to create one teaching activity that addresses each of the four learning preferences/assessment
2-3 PM Forward-Thinking Feedback: A Tool for Successful Evaluations
Dr. Nicole Bohm, Assistant Professor, SCCP – MUSC Campus
Facilitators: Dr. Jennifer Baker, Director of Experiential Education, SCCP
Dr. Cathy Worrall, Assistant Dean and Professor, SCCP-MUSC Campus
At the completion of this activity, the participant will be able to:
• Contrast the timing and delivery methods for feedback and evaluations
• List key criteria for effective feedback
• Construct appropriate feedback and evaluative comments
3 PM – 3:15 PM Break
3:15-4:15 PM Standards 2016: Implications for Experiential Education
Dr. Jennifer Baker, Director of Experiential Education, SCCP
At the completions of this activity, the participant will be able to:
• Describe CAPE Outcomes and ACPE Standards that impact experiential education
• Evaluate rotation activities to assess for alignment with CAPE outcomes.
• Create a rotation syllabus that links performance goals and activities to the respective rotation evaluation
4:15PM - 4:30PM Wrap-up
Date: Aug 12, 2015 08:30 AM - 04:30 AM
Fee
$0.00
CE Hours
6.00
CE Units
0.600
Registration closes on Aug 09, 2015 11:00 PM
Activity Type
Target Audience(s)
Accreditation(s)
| | |
| --- | --- |
| | The University of South Carolina College of Pharmacy is accredited by the Accreditation Council for Pharmacy Education as a provider of continuing pharmacy education. |
Requirements for CE Credit
Participants must check in with the front desk upon arrival and have attendance verified. Participants will receive credit for attending this program in its entirety and fully completing the associated evaluation. Failure to complete the evaluation within the specified time period (within 30 days of attendance) may result in loss of credit.
Participants must update their accounts to properly reflect their month and day of birth and their correct NABP E-Id. Failure to do so may result in loss of credit. Registration with a proper disclosure of your NABP E-Id is a requirement for receiving Continuing Pharmacy Education. To register with or look up your NABP E-Id, please click on the CPE Monitor logo below to be directed to their site.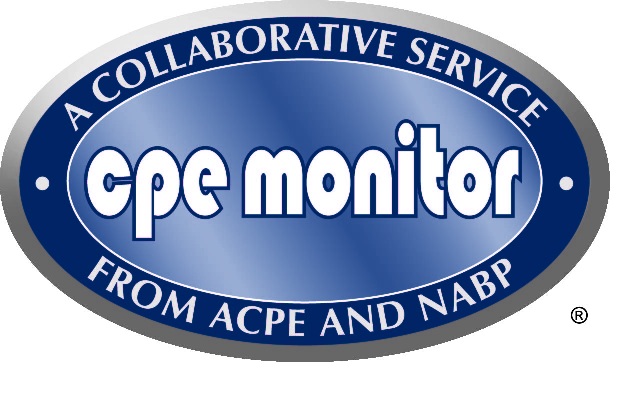 Registration closes on Aug 09, 2015 at 11:00 PM