Target audience: Pharmacists, Pharmacy Technicians, and Inspectors
This course is targeted for Pharmacists and Pharmacy Technicians responsible for preparing prescriptions for sterile and nonsterile hazardous drugs. Inspectors seeking training in the area of hazardous drug regulation and safety will also find this course beneficial.
Participant Requirements: Previous training and/or experience in sterile compounding is a pre-requisite for participants in this course. To receive continuing education credit for this program, participant must be a registered pharmacist or registered pharmacy technician. Participant must physically be able to stand for a minimum of 2 hour periods and must have manual dexterity to allow manipulation of needles, syringes and other products utilized to prepare hazardous drug products. Participant must also have full range of motion to complete physical tasks required in the compounding processes.
Program Description:
The KPIC Handling Hazardous Drugs in the Pharmacy Setting Training Program is an intensive education experience designed to equip pharmacists, technicians, and inspectors with immersive, hands on training in the safe handling and preparation of hazardous drug products. Learners will be provided training in the USP regulatory requirements and best practices to promote healthcare personnel and patient safety when utilizing hazardous drug compounds.
The live sessions incorporate didactic training and hands on skills training focused on the current requirements and best practices in preparation for situations most likely to be encountered when pharmacy personnel are preparing hazardous drugs. Program participants will receive training on the regulatory standards and best practices related to donning personal protective equipment, proper utilization and maintenance of equipment utilized with hazardous drug compounding, proper technique and utilization of closed system transfer devices (CSTDs), and proper cleaning and spill control related to hazardous drugs. Learners must successfully demonstrate competency via various hands-on simulations in the state of the art compounding facility. The training course content will be delivered through the use of didactic training, live demonstrations, hands-on simulation training, and practical skill assessments.
Instructors:
Nancy Roberts, PharmD, MS

Patient Care Pharmacist, West Georgia Medical Center, LeGrange, Geogia
Pharmacist, Southeastern Regional Medical Center, Newnan, Georgia

Carole Russell, RPh, BS, MHSA

Compounding Pharmacist, Medical University of South Carolina, Charleston, SC

Carl Dunn, RPh

Lead IV Pharmacist, Lexington Medical Center, West Columbia, SC
Disclosure Statements:
Faculty Disclosures: The presenters have disclosed no relevant financial relationships.
The planners, reviewers, staff and CME committee who control content have no relevant financial relationships to disclose.
Agenda:
| | | |
| --- | --- | --- |
| Time | Topic | |
| 8:00 - 8:15am | Welcome/Intro | |
| 8:15 – 10:15am | Overview of Hazardous Drugs - Regulatory Guidance and Best Practices | Lecture |
| 10:15 – 10:30am | Break | |
| 10:30 – 11:30am | Personal Protective Equipment for Hazardous Drugs | Demonstration/Hands on Simulation/Competency |
| 11:30am-12:30pm | Compounding Hazardous Drugs (Part 1) | Demonstration/Hands on Simulation |
| 12:30pm – 1:15pm | Lunch | |
| 1:15pm – 3:15pm | Compounding Hazardous Drugs (Part 2) | Hands-on Simulation/Competency |
| 3:15 – 4:00pm | Environmental Quality Control & Cleaning | Lecture/Demonstration |
| 4:00 – 4:15pm | Question & Answer, Wrap-up | |
Location: The training program will be offered at the Aseptic Compounding Experience (ACE) Lab, located at 715 Sumter Street, South Carolina College of Pharmacy - University of South Carolina campus in Columbia, SC.
Continuing Pharmacy Education (CPE) Information and Activity Completion Requirements:
For successful completion for the live activity, participants will be required to attend the accredited program in its entirety, successfully demonstrate practice based competencies using planned simulations, and complete speaker and program evaluations. This activity has been approved for 7 contact hours (0.7 CEUs) of live continuing education credit. ACPE# 0062-0000-15-116-L04-P/T.
Activity type: This is an application based learning activity
Initial Release Date: 10/4/2015
Expiration Date: 10/4/2018
Credit claimed will be automatically uploaded to CPE Monitor. If learner wants a hard copy statement of credit, it can be printed electronically and/or transcript from their CPE Monitor profile. For participants that complete the entire program, Certificates of Completion (or Achievement) will be provided.
Registration:
Registration is limited and will be taken on a first come first serve basis. Fee includes required materials, on-site training, and continuing education credit. For the one-day live training program; breakfast, lunch, and snacks are provided. Registrants are responsible for dinner, any travel expenses, and hotel accommodations.
Registration will be accepted until 14 days prior to the start of the live practice based component or until capacity has been reached. Registration closes September 20, 2015 or until full.
Program Cancellation and Refund Policy:
Cancellation Policy:
Cancellations received in writing at least 30 days prior to program date via letter or email to
ce@sccp.sc.edu
will receive a full refund minus a $200 cancellation fee.
SCCP reserves the right to cancel the entire program. In the event of a conference cancellation, each participant will be notified via phone and/or email at least 14 days prior to the program and a full tuition refund will be made.
In the event of inclement weather, the decision to cancel a course will be made no later than 9:00 am Eastern time the day before the program.
Registration transfers:
Individuals attending the course in place of the registered individual will be honored as long as the request is made in advance of the registration deadline, which is 14 days prior to the start of the live component. Transfer participants must still complete the required pre-requisite self-study by the required cut-off date.
Refunds:
Refund requests are subject to a $200.00 cancellation fee and must be received 30 days prior to the start of the live component. All registration cancellations must be submitted in writing or by e-mail to the Continuing Education Department at the following address.
South Carolina College of Pharmacy – USC Campus
Continuing Education
715 Sumter Street, Room 318
Registrants may receive 100% of the program registration fees, less the $200.00 cancellation fee up to 30 days prior to start date of the live component. No refunds are offered for cancellations fewer than 30 days prior to the start date of the live component or for no shows.
Fee: Introductory Price = $995 (standard), $895 (early registration) Early registration must be completed at least 30 day prior to event. Early Registration ends September 4, 2015 at 4:30 p.m ET. After September 4, 2015 at 4:30 p.m. ET, registration becomes $995.00.
Please note fees will show as "Learning Express" on credit card statement.
Date: Oct 4, 2015 08:00 AM - 04:15 PM
Fee
$995.00
CE Hours
7.00
CE Units
0.700
Registration closes on Sep 20, 2015 11:55 PM
Activity Type
Target Audience(s)
Pharmacists
Pharmacy Technicians
Accreditation(s)
| | |
| --- | --- |
| | The University of South Carolina College of Pharmacy is accredited by the Accreditation Council for Pharmacy Education as a provider of continuing pharmacy education. |
Requirements for CE Credit
Participants must check in with the front desk upon arrival and have attendance verified. Participants will receive credit for attending this program in its entirety and fully completing the associated evaluation. Failure to complete the evaluation within the specified time period (within 30 days of attendance) may result in loss of credit.
Participants must update their accounts to properly reflect their month and day of birth and their correct NABP E-Id. Failure to do so may result in loss of credit. Registration with a proper disclosure of your NABP E-Id is a requirement for receiving Continuing Pharmacy Education. To register with or look up your NABP E-Id, please click on the CPE Monitor logo below to be directed to their site.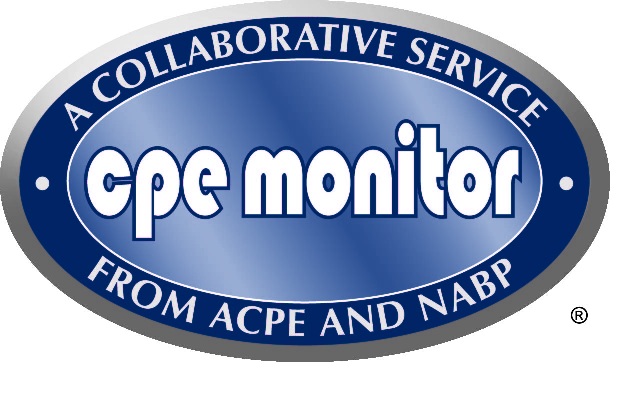 Support/Credits
There is no commercial support for this program.
Registration closes on Sep 20, 2015 at 11:55 PM
At the completion of this activity, the participant will be able to:
1. Summarize USP chapter requirements for hazardous drug compounding and highlight key requirements and
agencies associated with HD guidelines
2. Define hazardous drugs and exposure risks
3. Discuss the role of facility design, secondary engineering controls and primary engineering controls in
compounding hazardous drugs
4. Identify the personal protective equipment used specifically for compounding hazardous drugs
5. Describe and demonstrate proper procedures for deactivation/decontamination, cleaning, and disinfection of
SECs and PECs used for compounding HDs
6. Explain environmental controls for minimizing exposure to HDs: storage, general handling, labeling and
transport
7. Define and properly utilize closed system transfer devices (CSTDs).
8. Discuss and demonstrate spill management and disposal of HD waste
9. Describe Hazardous communication program
10. Outline requirements and competencies for training of compounding personnel
11. Define medical surveillance
12. Demonstrate proper donning and removal of PPE
13. Demonstrate proper aseptic technique using negative pressure technique
14. Demonstrate proper aseptic technique using CSTD and priming IV
15. Demonstrate use of powder hood for non-sterile HD compounding
Speaker(s)/Author(s)
Carl Dunn, RPh
Pharmacist, Dorn VA
Carole Small Russell, RPh, MHSA
Compounding Pharmacist, MUSC
Nancy Roberts, PharmD, MS
Sterile Compounding Training, Program Director, KPIC, University of South Carolina
Activity Number
0062-0000-15-116-L04-P/T
Date: 10/04/15
Time: 08:00 AM - 04:15 PM
CE Hours
7.00
Registration Closed