Greenville Memorial Hospital
Conference Center 1
February 20, 2016
---
Learning Objectives:
At the completion of this activity, the participant will be able to:
1. Discuss advancements of cancer treatment in regards to oral chemotherapy
2. Identify administration and adherence challenges related to oral chemotherapy
3. Evaluate strategies to manage pertinent drug interactions and common adverse reactions with oral chemotherapy
4. Review common complications of chemotherapy and the drugs most commonly associated with them
5. Apply knowledge of commonly used agents to select optimal patient specific therapy
6. Describe the pharmacist's role in identification and management of oncologic emergencies
7. Identify appropriate therapeutic recommendations for the treatment of hypercalcemia, tumor lysis syndrome, spinal cord compression, infusion and hypersensitivity reactions and extravasation
8. Apply oncologic emergency treatment principles and guidelines when presented a patient case
Schedule:
8:30 - 9:00 Registration/Welcome
9:00 - 10:00 Oral Chemotherapy
10:00 - 11:00 Supportive Care
11:00 - 11:15 Break/Vendors
11:15 - 12:15 Oncologic Emergencies
12:15 - 12:30 Closing Remarks/Thank you
FOR REGISTRATION QUESTIONS, PLEASE CONTACT SCCP AT
803-777-9979 OR CE@sccp.sc.edu
FOR DIRECTIONS TO THE PROGRAM SITE, PLEASE CONTACT GREENVILLE HEALTH SYSTEM AT 864-455-1328.
FOR GREENVILLE HEALTH SYSTEM EMPLOYEES WHO NEEDS A PAYMENT CODE, PLEASE CONTACT YOUR SUPERVISOR PRIOR TO REGISTRATION.
Date: Feb 20, 2016 08:30 AM - 12:30 PM
CE Hours
3.00
CE Units
0.300
Registration closes on Feb 16, 2016 11:55 PM
Activity Type
Target Audience(s)
Accreditation(s)
| | |
| --- | --- |
| | The University of South Carolina College of Pharmacy is accredited by the Accreditation Council for Pharmacy Education as a provider of continuing pharmacy education. |
Co-Sponsor(s)
GHS
Requirements for CE Credit
Participants must check in with the front desk upon arrival and have attendance verified.
To claim credit for this activity, participants must complete an online program evaluation and must update their accounts to properly reflect their month and day of birth and their correct NABP E-Id. Registration with a proper disclosure of your NABP E-Id is a requirement for receiving Continuing Pharmacy Education. To register with or look up your NABP E-Id, please click on the CPE Monitor logo below to be directed to their site. Failure to follow this process within the required timeframe will result in loss of credit. If you would like a paper statement of credit, you may print an individual statement or a transcript from your NABP e-profile.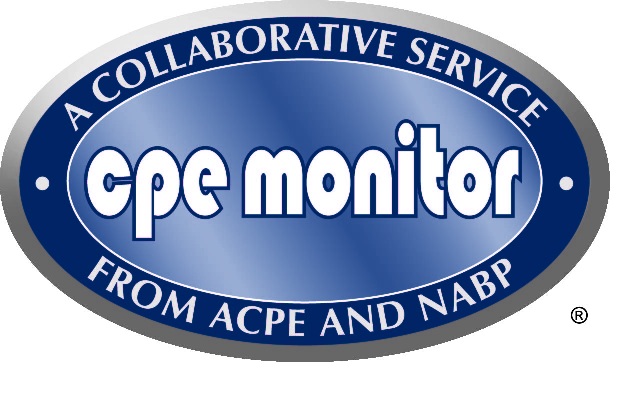 Registration closes on Feb 16, 2016 at 11:55 PM
At the completion of this activity, the participant will be able to:
1. Discuss advancements of cancer treatment in regards to oral chemotherapy
2. Identify administration and adherence challenges related to oral chemotherapy
3. Evaluate strategies to manage pertinent drug interactions and common adverse reactions with oral chemotherapy
4. Review common complications of chemotherapy and the drugs most commonly associated with them
5. Apply knowledge of commonly used agents to select optimal patient specific therapy
6. Describe the pharmacist's role in identification and management of oncologic emergencies
7. Identify appropriate therapeutic recommendations for the treatment of hypercalcemia, tumor lysis syndrome, spinal cord compression, infusion and hypersensitivity reactions and extravasation
8. Apply oncologic emergency treatment principles and guidelines when presented a patient casel
Speaker(s)/Author(s)
Bradley Yelvington, PharmD
Greenville Health System
Michael Wagner, PharmD
PGY2 Specialty Residency in Critical Care, Greenville Health System
Pooja Shah, PharmD
Greenville Health System
Activity Number
0062-9999-16-022-L01-P
Date: 02/20/16
Time: 09:00 AM - 12:15 PM
CE Hours
3.00
Fee
$50.00
Registration Closed